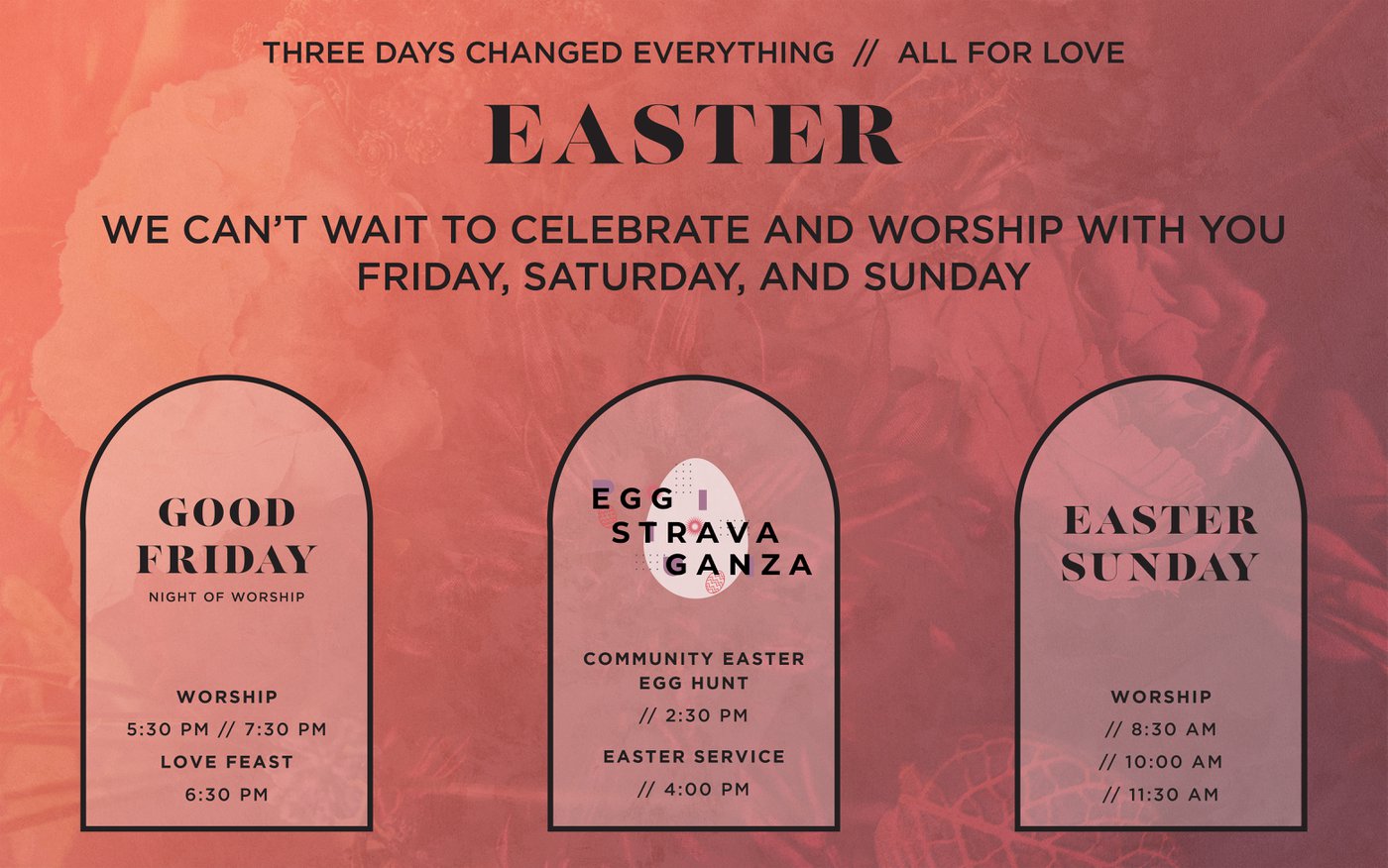 Good Friday
// come at 5:30 pm for worship and stay for fellowship at the 6:30 pm love feast. Or for the love feast at 6:30 pm and stay for the 7:30 pm worship experience.
A special evening to reflect on and remember Christ's sacrifice on the cross. Through song, Scripture, and prayer, we'll walk through the events leading up to the cross - the Lord's Supper, foot washing, Jesus' betrayal, His trial, and ultimately His sacrifice for us.
Eggstravaganza
// join us for a fun-filled day with kids' games and activities and a giant Easter egg hunt starting at 2:30 pm. Stay for the identical Easter service beginning at 4:00 pm


A FREE, FUN event for the whole family on Saturday, April 8, 2022, from 2:30 - 3:30 pm
Separate egg hunts for 2-year-olds, Preschoolers, and K-4th graders
Bags will be provided
Bubble Blast Fun
Face Painting
Sidewalk Chalk
Snacks
Stay for the identical Easter Worship Gathering at 4:00 pm. Preresigeter your kids for KidMin here.
Easter Worship Gatherings
// we can't wait to celebrate the resurrection with you Saturday, April 8th, at 4:00 pm or Sunday, April 9th, at 8:30 am, 10:00 am, or 11:30 am
All of the worship gatherings will be identical. Bring your friends, family, coworkers, and neighbors. One invite could impact eternity.